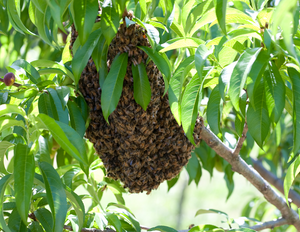 Swarm Removal
See a swarm? Give us a call.
We will safely remove the bees and relocate them to one of our aperies, where they will thrive undisturbed and out of your way.
Just remember when bees swarm, they are unlikely to sting. They are engorged with honey and concerned about finding a new home in addition to not having any brood to protect, meaning they are less defensive.
If you leave them alone, they will leave you alone.
Help save Bermuda Bee's and keep the island buzzing.  
Colony Removal
Find some new squatters or unwanted neighbors?
Do not panic, give us a call to discuss where they are and the best approach to removing them.
It is important not to kill the bees, it may be a quick solution to you, however you will leave behind the comb and honey. This will attract insects and other animals creating a second problem and most likely require the remaining comb to be removed. Not to mention the bees are important to Bermuda and our environment.
In some cases, light construction work and patching may be required, it can take varying amount of time to remove the colony. It is delicate work and can be time consuming. 
Contact Us