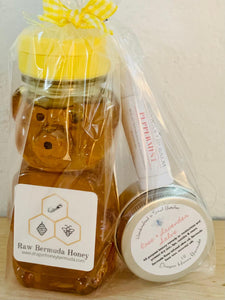 Looking for that unique or rather sweet item this holiday season for someone?
Let us help you out, with a sampler pack, featuring our beeswax lip balm and rose salve to hydrate your skin and lips with our 8oz teddy bear of Raw Bermuda Honey. 
Gift bags are customizable, contact us to let us know what your personal spin is and show someone you are thinking of them.
prices will vary based on customization. 
Please note, lip balms are now sold in 0.5oz tins as the tubes have sold out.